Provide Your Patients With The Highest Quality
Welcome to JHS Natural Products - A premier company that manufactures and distributes highly effective medicinal mushroom supplements. Our products are backed by clinical trials and scientific studies.
At JHS Natural Products, we choose to offer hot water and hot water/alcohol extracts exclusively; they are the only supplemental forms of medicinal mushrooms we can find supporting research for.
Quality Medicinal Mushroom Supplements Since 1994.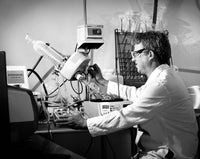 Backed By Scientific Research
Since 1994, longer than any other mushroom company in North America, the people at JHS Natural Products have been dedicated to providing health care practitioners with the highest quality medicinal mushroom supplements in the world. In pursuing that goal we have looked to traditional herbalism and the scientific research for guidance. Our commitment to the science of medicinal mushrooms is unequaled in the industry.
JHS Natural Products lists guaranteed levels of all the scientifically validated active compounds on every supplement label, with each mushroom supplement. Our commitment to quality guarantees that you are providing your patients with the most effective, highest quality mushroom extracts in the world; the proof is on every label.  
About JHS Natural Products
Quality Control
Mushroom Science/JHS Natural Products follows a rigorous Quality Control (QC) program. Every lot/batch of every product is tested to confirm identity, purity and potency.
Although we have complete confidence in the competency of our cultivation and extraction facilities, we realize our mushroom supplements are sometimes used by immuno-compromised people, and we want practitioners and their patients to have absolute confidence in the purity and potency of our supplements. We use third-party labs to test every batch of every product, to ensure they are free of contamination from pesticides, solvent residue, elemental metals, and bacteria.
Learn More